BRANDED COMMERCIAL QUALITY PARASOLS
SEND AN ENQUIRY
Please leave us your details so a member of our team can contact you to discuss your requirements.
First Impressions Count
That first impression with your customers can only be made once. That is why we offer a complete printing and branding solution for our commercial parasols. Display your Brand on any of our large outdoor parasols and event tents. We can screen print or digitally print any canvas base colour with your logo, slogan or any other image or message you want to portray.
Promotional and advertising parasols are one of the most popular outdoor promotional items used for displaying a brand logo and for building customer brand recognition and loyalty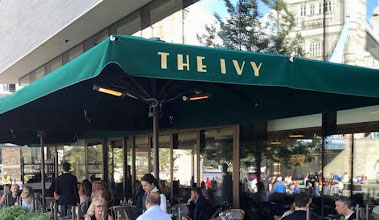 Parasol Valences
All our parasols have the option of adding valances ( the side panels that hang down ). This can increase your branding opportunities providing a larger space for advertising. These are special order items so please contact us for pricing.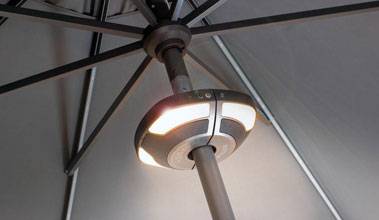 Lighting
All our commercial parasols can have internal lighting built in as an optional addon. The lighting can even be controlled remotely. All the electrical cabling is contained within the pole with a connector to your external armoured cabling. ( Needless to say but all electrical fittings should be carried out by a professional electrician. )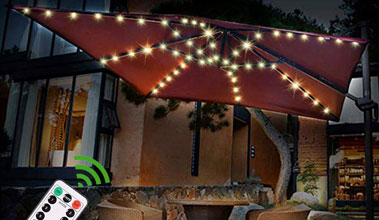 Remote Control
Not only can lighting be remote controlled for our larger commercial parasols you can have remote controlled opening too. At a click of a button all your parasols can open smoothly and remotely. Contact us for more information.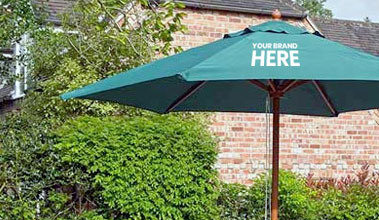 Printing
We can print virtually anything onto your parasol canvas. All we need is your image file and we will adapt it for the parasol panels.
Digital printing has no limitations in terms of details and gradients but the lifetime of the digital print is limited. It will fade over time when exposed to strong sunlight, however canopies can be replaced without replacing the entire parasol. Screen printing is UV resistant but has limitations when it comes to large areas of colours with colour gradients.
Send us your image file and we will advice on the best solution to fit your needs.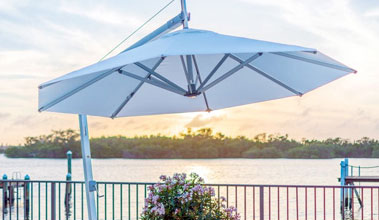 Stom Force Wind Resistance
If you are thinking about a permanent outdoor parasol but have concerns about strong gusts of winds or unexpected high turbulance as you might experience on the coast or on a high plateau or building. We offer the Atlantic Parasol.
Built to withstand wind speeds of upto 80km per hour and fully tested to 140km/h in a wind tunnel.
SHOP PARASOLS
There are no products matching the selection.
WE'RE TRUSTED BY